Jefferson Parish Market Report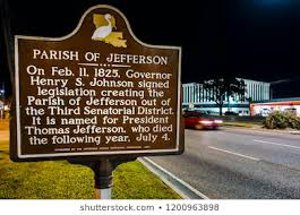 Jefferson Parish was named in honor of US President Thomas Jefferson of Virginia when the parish was established by the Louisiana Legislature on February 11, 1825, a year before Jefferson died. A bronze statue of Jefferson stands at the entrance of the General Government Complex on Derbigny Street in Gretna. The parish seat was in the city of Lafayette, until that area was annexed by New Orleans in 1852. In that year the parish government moved to Carrollton, where it remained for twenty-two years.
Originally, this parish was larger than it is today, running from Felicity Street in New Orleans to the St. Charles Parish line. However, as New Orleans grew, it absorbed the cities of Lafayette, Jefferson City, Carrollton, and several unincorporated areas (faubourgs). These became part of Orleans Parish. The present borders between Jefferson Parish and Orleans Parish were set in 1874. The Jefferson Parish seat was moved to Gretna at the same time.
According to the U.S. Census Bureau, the parish has a total area of 665 square miles (1,720 km2), of which 296 square miles (770 km2) is land and 370 square miles (960 km2) (56%) is water.
Lake Pontchartrain is situated in the northern part of Jefferson Parish with the parish line several miles north of the southern shore, with St. Tammany Parish at its northern shore. The Mississippi River is located around the midpoint of Jefferson Parish flowing generally in a north-west to south-east direction.
Surrounding parishes include St. Tammany Parish, Louisiana at the north shore of Lake Ponchartrain, St. Charles Parish upriver to the west, Orleans Parish downriver to the east, and Plaquemines Parish downriver to the south-east. The majority of the southern half of Jefferson Parish is uninhabited marshland with one of the exceptions being the town of Grand Isle; the only roads connecting Grand Isle to the rest of Jefferson Parish run through Lafourche Parish and St. Charles Parish.